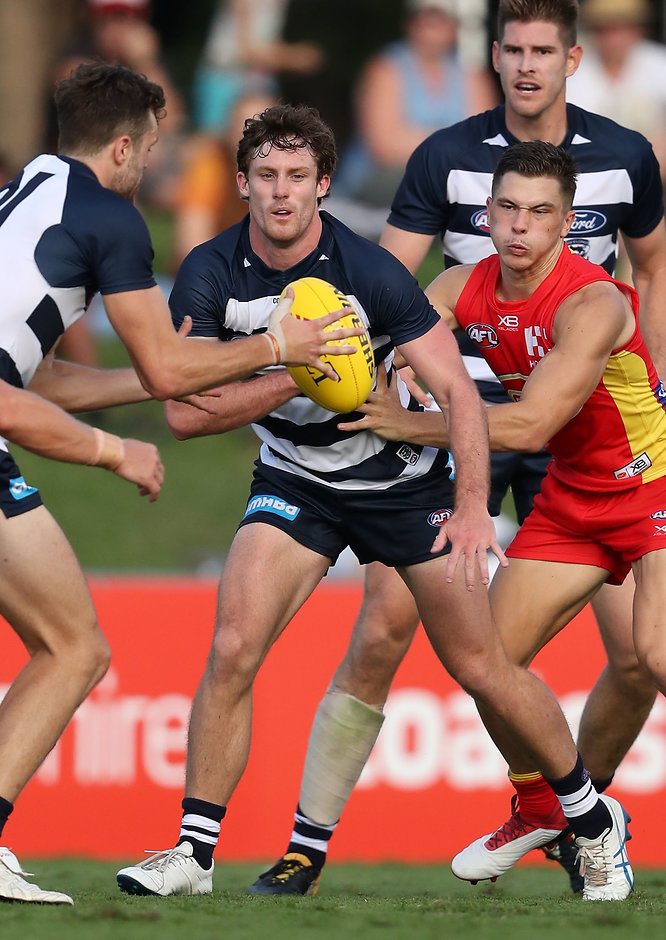 GEELONG defender Jed Bews is one of many Cats to have played 50 AFL Games and looking to elevate their game to a new level in 2018.
Speaking to K-rock Football following Geelong's recent JLT Community Series loss to Gold Coast in Townsville, Bews is working hard to improve all areas of his game.
"I want to improve in all areas a little bit and tweak a few things," said Bews.
"I still want to get the ball in my hands a little bit more and try to not just be that lock-down defender."
Bews wants to attack and believes a shift in his mental approach can help elevate his game to a new level in 2018.
"I think it is more of a mental thing, but just getting the ball and going for those kicks, rather than taking the safe ones."
"There was a couple today (against Gold Coast) where I should have looked inboard a little bit more, so that is something I have got to work on."
That improvement will be pivotal to the Cats on-field success this season, following the recent retirement of club legends Andrew Mackie and Tom Lonergan.
Their departures leave big shoes to fill in the back six and Bews said the defenders are working hard on forming a 'tight knit' group.
"As a back group we just want to get as close as we can, everything comes off the back of our defence, so if we are set down there, they (opposition) shouldn't score to well."
Geelong will host Essendon in their second JLT Community Series match at Central Reserve in Colac on Sunday from 1.05pm EDT.
"It is a nice deck down there and I think it will be good to travel down the highway to Colac and we look forward to it," he said.
Members get free entry, so make sure you get down and show your support.
The views in this article are those of the author and not necessarily those of the AFL or its clubs