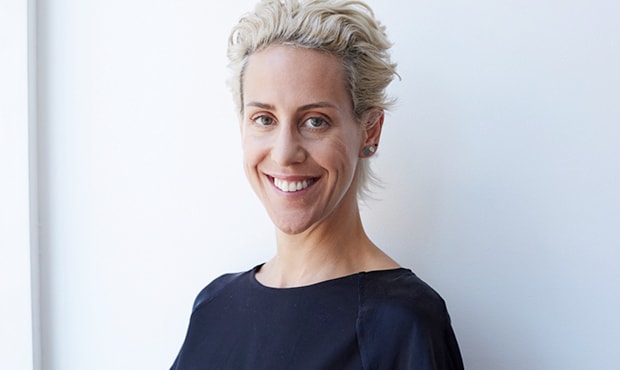 New AFL executive member Kylie Rogers certainly fits the theme of this year's Fare on the Field event, which is all about celebrating pioneering women.
Rogers was recently appointed the league's General Manager Commercial, a broad role managing both the AFL's commercial relationship with the game's many fans and its relationship with its 42 corporate partners – global giants like McDonalds.
"Some would say that commercial has often been a male domain, and I'm honoured to be leading the commercial division here at the AFL as a female," Rogers said.
"I'm thoroughly enjoying it so far. I have a big job to do but it's a great opportunity, and I can't wait to kick some serious goals this year.
"I have found the AFL to be a very welcoming organisation. The executive team are fantastic. It is made up of 40 per cent women now, so we're heading in the right direction."
Rogers, whose maternal grandfather, Ron Hobba, played eight VFL games for Melbourne and also spent time with Footscray, is a passionate Western Bulldogs supporter.
She still smiles at the memories of the 2016 Grand Final, which she watched live at the MCG after cutting short a holiday.
But Rogers wasn't hired by the AFL because she loves footy. Rather, it was her impressive resume, which includes a 17-year stint in a commercial role at Channel 10 and four years in the digital world with Mamamia.
At Fare on the Field, presented by Ford, she will speak about the many lessons she has learned along the way.
"I'm keen to talk to them about my journey to being a female leader in a man's world," Rogers said.
"I'm keen to talk to the women about how we often feel like imposters, and that women will only take a role if they can tick every single box.
"But I believe it's very important to find your inner strengths and take risks and know that it's okay to fail.
"I have a word I've coined which is 'flearning'. It means learning through failure.
"So I want to talk to the girls a little bit about my personal values and how I live them, and also a bit about the #metoo movement and the implications that that has, positive and negative, on female empowerment in the workforce.
"The importance of supporting other women is a big one."
Rogers will feature on a panel alongside fellow AFL executive member Nicole Livingstone, the league's Head of Women's Football.
"Nic's extraordinary," Rogers said. "I can't wait to hear what she has to say."
To hear more from Kylie and other forward-thinking women, book your tickets via the link below or click here.
The views in this article are those of the author and not necessarily those of the AFL or its clubs