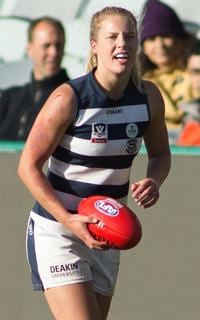 Geelong has submitted its bid to be part of the AFL Women's competition from 2019.
The interactive presentation incorporates videos that track the progress of the Cats' women's football program, focusing on the VFL Women's team launched immediately after the Club was overlooked for the inaugural 2017 competition.
VFL Women's Assistant Coach Natalie Wood describes the disappointment of missing out on an AFLW team but says, "It's been great to see the work the Geelong Football Club and AFL Barwon have done … to build a sustainable base for a pathway for girls and then women."
The Cats have hit the ground running in the VFLW competition, winning three of their first four matches.
"It's been so much fun," says Cats star Anna Teague, who was previously the captain of the Geelong Supercats women's basketball team.
"It's such an amazing group to be a part of."
The Geelong bid highlights the recently completed Charles Brownlow Stand, which has delivered state-of-the-art facilities that support the club's VFLW program and will be the home of the AFLW Team.
The new Costa Brothers Football Centre includes purpose-built women's change rooms.
"Having our own change rooms is pretty special," Teague says.
Further strengthening its bid for an AFLW licence, the club's presentation highlights a number of key areas that will support a successful AFLW program:
* Extensive reach and relevance – the impact a Cats AFLW team can have in Greater Geelong, the Surf Coast, and Western Victoria adds immediate relevance to a significant demographic.
* Growth of the game – participation in the AFL Barwon region has grown significantly in the past three years with the number of registered female teams rising from four in 2015 to 44 in the current season.
* Club commitment – Every area of the club is ready for Geelong to be part of the AFLW and is committed to making the team and league a success
* Support for an AFLW team from commercial partners – this includes a number or current VFL Women's team sponsors such as Deakin University, who provide the team with access to their Elite Sports Precinct at the Waurn Ponds campus.
The success of the club's Membership program adds further weight to the bid and demonstrates the public support for a women's team in Geelong.
The Cats already has more than 450 Women's Football Pioneers, who are committed to investing in the development of the club's female athletes.
It all adds up to a club that is ready to take the next step.
"The time is now," says Cats star Jordan Ivey. "Geelong is ready for an AFLW team."
Adds Geelong's VFLW captain, Bec Goring, "And we have the drive to succeed at the AFLW level."
The views in this article are those of the author and not necessarily those of the AFL or its clubs