VICTORIAN clubs have been given seed funding to establish club-branded academies in allocated areas throughout Victoria and the Northern Territory.
Under the plan unveiled to clubs on Tuesday, they will be given the chance to invest in specific regions to attract youngsters from diverse backgrounds and indigenous heritage to play AFL and develop elite talent within those areas.
The plan is part of an AFL push to ensure the game continues to attract and foster the development of players regardless of their background or location.
For example, reigning premiers Hawthorn have been allocated the eastern Whitehorse region in Melbourne, along with Gippsland local government areas and Katherine in the Northern Territory, while North Melbourne has been given the Wyndham and western Melbourne areas.
Those clubs will set up 'Next Generation' AFL Academies using club brands with the aiming of increasing the talent pool.
Football operations boss Mark Evans said the details of talent concessions were yet to be finalised, but he imagined that in time the system would operate in a similar fashion to the bidding system in place for northern-based academies.
"It is important we provide clubs with an incentive to develop a presence in these communities, and help attract talented indigenous and multicultural players who would not otherwise play AFL, or are under-represented," Mr Evans said.
The clubs were consulted in the past 12 months and are understood to have accepted the allocation in general terms.
"The allocation of regions has been based on a range of factors – aligning to existing Under-18 talent regions, minimising player travel and access issues, aligning AFL clubs to current or historical relationships with certain communities and balanced access to 5-18 year-olds from diverse backgrounds," Evans said.
The AFL will meet with South Australian and West Australian clubs regarding the allocating of regions in those states, and is in the process of finalising the allocation of regions in Tasmania.
Next generation AFL club academies – Victorian clubs region allocation
Western Bulldogs – Western Melbourne, Wimmera, Mallee, South West Victoria, Ballarat, (North Ballarat Rebels & Western Jets)
Essendon – North West Melbourne (Calder Cannons), West Arnhem (NT)
Melbourne – South East Melbourne (Dandenong Stingrays), Alice Springs (NT)
Collingwood – Central Melbourne (Oakleigh Chargers), Barkly (NT)
St Kilda – Inner Southern Melbourne (Sandringham Dragons), Frankston LGA
North Melbourne – Melbourne and Wyndham LGAs (Calder Cannons & Western Jets)
Hawthorn – Eastern/Whitehorse LGAs (Eastern Ranges), Gippsland (Gippsland Power), Katherine (NT)
Carlton – Northern Melbourne (Northern Knights)
Geelong – Geelong /Hampden (Geelong Falcons), East Arnhem (NT)
Richmond – Goulburn Murray, Bendigo, Sunraysia, North Central (Bendigo Pioneers and Murray Bushrangers)
Victorian allocation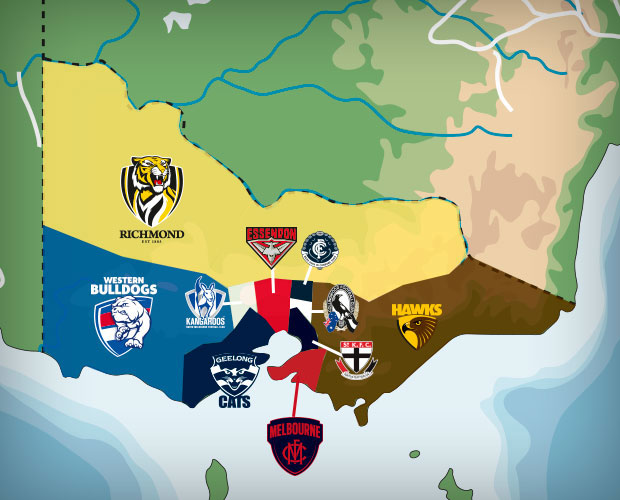 Northern Territory allocation