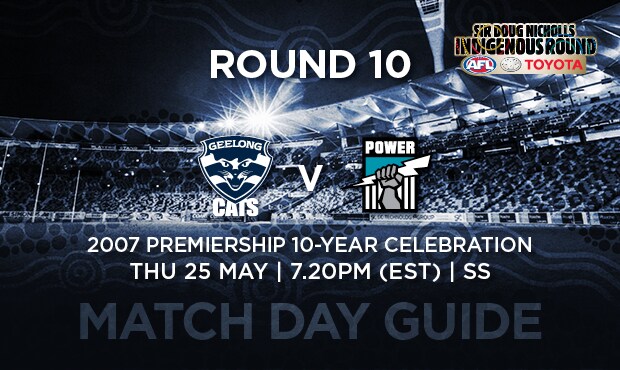 19°C
Partly cloudy. Chance of rain


Gates open
5.30pm

The Charles Brownlow Stand is open. Click here to view an updated map, so you can move around the stadium with ease!
SIR DOUG NICHOLLS INDIGENOUS ROUND
The Round 10 clash between the Cats and Port kicks off the AFL's annual Sir Doug Nicholls Indigenous Round. Named in honour of Sir Doug Nicholls, the round recognises and celebrates indigenous players and culture.
Sir Doug, who epitomised the spirit of reconciliation, played 54 games for Fitzroy and was a brilliant all-round athlete. The first Aboriginal person to be knighted, he also served as Governor of South Australia and was devoted to the wellbeing of Aboriginal and Torres Strait Islander people.
This year, the AFL Sir Doug Nicholls Indigenous Round celebrates 50 years since the 1967 referendum, and 25 years since the Mabo decision.
Both the Geelong Cats and Port Adelaide will wear special indigenous-themed guernseys in Round 10.

---
LEGENDS PLAZA
Located at the entry of the Charles Brownlow Stand, there's a lot happening in this space on game day.
'07 Premiership giveaways
To celebrate the 10-year anniversary of the 2007 Premiership, we have a heap of commemorative giveaway items which will be handed out in the Legends Plaza including posters, gym towels and water bottles.
Morris Finance and K rock
The K rock dome will be up in the Legends Plaza. The Morris Finance team and Max the mascot, will be there handing out Thundersticks and crowd boards, plus there will be plenty of activities including "Spin to win"! Participants will have the chance to win an instant prize, plus go into the draw to win a share in the major prize pool including a 1 on 1 training experience with Tom Hawkins, a 2017 signed Cats guernsey, K rock footy commentary experience. Learn more on the day!
GMHBA
Find heaps of fun activities for the whole family, including guess the box, handball targets and more, in GMHBA's activation space.
---
DOUG WADE GATE & PLAYERS STAND
Barwon Water
Our Round 10 match is proudly sponsored by Barwon Water. The Barwon Water hydration station will feature our Indigenous Guernsey artwork, designed by Nathan Patterson, and will be located in the Players Stand concourse. Barwon Water team members will be handing out drink bottles to fans, which will also be feature our Indigenous Guernsey design.
Street Surfer Bus
The Barwon Child, Youth & Family (BCYF) Street Surfer Bus will be located on the fence near Gate 8. Kitted out with computers, wide screen TVs, Playstations, a Wii, a DVD player, a (big!) stereo system and even a built in BBQ, the Street Surfer Bus is a fantastic place to come and play, learn, get informed and chill.
To learn more about Barwon Child, Youth & Family services and the Street Surfer Bus, click here.
Kids Zone
The Kids Zone will be located behind the Players Stand in Round 10. There will be face painting for the kids available, plus other activities. Be sure to check out the interactive wall on the Deakin Cats Community Centre wall in the Players Stand, as well as our 2017 team photo closer towards the Bernie Smith Gate.

BEFORE THE GAME
The 2007 Premiership decider will long live in the memory of Cats fans and we will celebrate the 10-year anniversary of the win before the game on Thursday!
Premiership coach Mark 'Bomber' Thompson and the majority of the 22 players who represented Geelong on that famous day will be attendance.
Thompson and his team will do a lap of honour prior to the clash with the Power, and one of the players will ring the historic Kardinia Park bell.
Get along to the game in droves and salute the team that ended the 44-year premiership drought.
Fans can also enjoy a colourful lightshow, highlighting the roof above the Hickey Stand!
Keep an eye out for Half Cat and a lucky Quarter Cat doing a lap of the ground!
Our MCs Nathan Templeton and Sam Riches will interview a 2007 Premiership player pre-game.
GUARD OF HONOUR
Cats Our guard of honour in Round 10 will be made up of local indigenous artists from the Wada Nyooroo program. This is a cultural art program sponsored by Barwon Water which allows Aboriginal and Torres Strait Islander students to connect with the community through art and storytelling.
The students will showcase bollards which they have painted as a part of the program. In June, these will be installed permanently in an Indigenous garden.
QUARTER TIME
Cats Members and fans, put on your dancing shoes and go crazy for the Morris Finance Dance-Off! Rock it out to some tunes at 1/4 time to appear on the big screen and for your chance to win the $250 cash prize!ats Members and fans,
HALF TIME
Our MCs Nathan Templeton and Sam Riches will interview an assistant coach at half time.
FOURTH QUARTER
Launched last week, KFC's Kickin' for Chickin' is back this week!
During the last quarter of 2017 Cats home games, if the opposition team misses a set shot for goal from inside 50m out on the full, fans will win the opportunity to redeem a free Zinger Burger from one of seven participating KFC stores in the Geelong region – so be sure to make some noise Cats fans!
To redeem their burger, fans will need to present either a 2017 Geelong Cats access Membership or their daily ticket from the relevant game.
The seven participating stores are Westfield Geelong, Grovedale, Corio, Waurn Ponds, Belmont, Newcomb and North Geelong.

Click here for more information, and full terms and conditions.

PUBLIC TRANSPORT
For the most up to date information on getting to Simonds Stadium on Match Day, please visit the Kardinia Trust website.
Train
Geelong is approximately one hour from Melbourne's Southern Cross Station, with the Geelong Railway Station situated 1.8 kilometres to the north of Simonds Stadium and South Geelong Station located 450 metres to the east (five minute walk to Simonds Stadium).
V/Line run special footy trains on match day, in addition to their regular services, which makes this a great option for getting to the game. To view the additional footy services, please visit www.vline.com.au/footy.
Please note: For all up to date information on V/Line regional rail timetables and line service updates, please visit the V/Line website or the Public Transport Victoria website.
Buses, Taxis and other transport
For other informational on buses, taxis and other travel information, please click here.
CAR PARKING & ACCESS
For those driving to the game, there is limited public parking available within the Kardinia Park Precinct on event days at a cost of $10 for 2017 Geelong Cats Members and $15 for non-members. Parking is operated by an external provider. Entry into the Kardinia Park Precinct is via a number of points:
Kilgour Street – Entrance A,

Latrobe Terrace – Entrance B,

Park Crescent – Entrance C and D

Moorabool Street – Entrance E which is utilised for Disabled Parking
There is paid and unpaid street parking located in the surrounding area, however please be mindful of parking restrictions. Some suggested alternative car parks near Simonds Stadium are:
Barwon Valley Park car park

South Geelong Railway Station
For information on accessible parking and disabled access, please click here.
A drop-off zone is available near the A10 car park however, on AFL match day this is a very busy area for pedestrians.

Our friendly Membership team can be found in multiple locations on game day, including their new permanent customer service counter in the Charles Brownlow Stand. You can find the Membership team:
Membership customer service counter: Inside the Charles Brownlow Stand, enter via Gate 13 (Open for Membership sales, Member cap sales and enquiries)
Membership marquee: Outside Gate 1, Polly Farmer Gate (Open for Memberships sales and Member cap sales)
Box Office Windows 8 & 9: Open for Membership enquiries)
Box Office Window 7: Open for internal ticket collection
Not a Cats Member? JOIN OUR JOURNEY in 2017 and become a Cats Member at membership.geelongcats.com.au. Memberships start from just $9.16 per month for adults and $5 per month for juniors.
MAPS:
Thursday night footy is back at Simonds Stadium! We have a special ticketing offer for Rd 10 so everyone can come along to celebrate our '07 Premiership Heroes.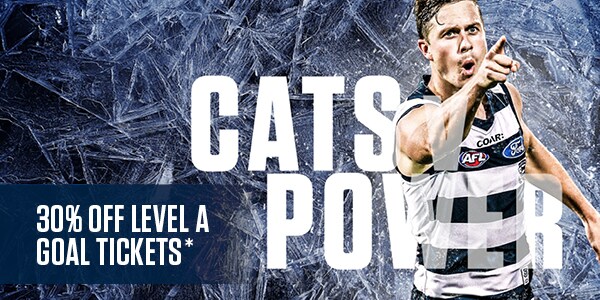 Offer is available for Adult and concession reserved seat tickets located behind the goals.
*Terms and conditions apply: Online only, adult and concession prices only, subject to availablity and transaction fees may apply.
RESERVED SEAT HOLDERS
Members with a Simonds Stadium Reserved Seat package can scan in using their Membership card (or temporary pass) to access their seat.

Can't make it on Thursday? By using our Seat Return program, more Cats Members and fans get their chance to experience the boys in front of an electric Simonds Stadium crowd!
You'll be rewarded, by getting a credit towards your future 2018 Membership!*
Return your Reserved Seat for our Round 10 game here.
GENERAL ADMISSION
General Admission (GA) seating areas in the Ablett Terrace (Polly Farmer Gate, Gate 1)
General Admission seating: Bays A43-A54 (From Row P backwards)
General Admission standing room: Behind GA seating bays
Members can simply scan their Membership card at the Polly Farmer Gate (Gate 1) to access all GA seating in the Ablett Terrace – no need to pre-book seats!
General Admission seating is strictly subject to capacity, so we strongly encourage Members arrive early on Friday to secure entry.
GEELONG SOCIAL CLUB
Click here for the detailed Geelong Social Club guide.
CHEER SQUAD ALLOCATION
Geelong Cats: Bay A17 (Players Stand)
Port Adelaide: A44 (Ablett Terrace)
TICKETING OUTLETS
Polly Farmer Gate (Gate 1)

Bernie Smith Gate (Gate 5)

Bob Davis Gate (Gate 13)
MAPS: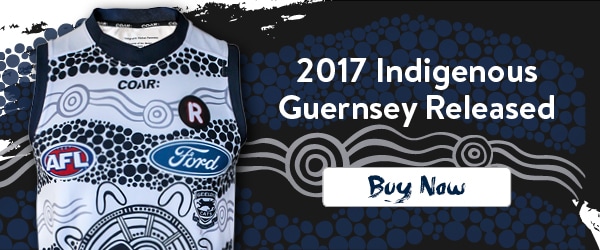 Designed by local indigenous artist Nathan Patterson, this special edition guernsey is in-store or online at the Cats Shop! The players will be wearing this guernsey in Rd 10. Youth and adult sizes available.
Cats Shop has moved into the Charles Brownlow Stand! Make sure you check out the new fitout, which is now spilt across two levels full of new arrivals including our COAR and New Era merchandise! Enter via ground floor or Level 1. By purchasing your favourite merchandise through the Cats Shop to get game day ready, all proceeds go directly towards supporting our club and remember, 2017 Members get 10% off!
Cats Shop will be found in the following locations on game day:
New Cats Shop: Charles Brownlow Stand - Opens at 9am until 4.30pm to the public. Re-opens at 5.30pm and closes 20 minutes after the final siren
Outlet 1: Ablett Terrace - Opens at 5.30pm, closes 20 minutes after the final siren
Outlet 2: Players Stand - Opens at 5.30pm, closes 20 minutes after the final siren
Van 1: Polly Farmer Gate (Gate 1) - Opens at 5.30pm
Van 2: Bernie Smith Gate ( Gate 5) - Opens at 5.30pm
Geelong Social Club pop up: Located within the Geelong Social Club

There are some important updates and information regarding our Round 10 game for Geelong Social Club members. Click here to view the full guide

The main public bars located around the ground are the Jack Rabbit Bar (located on Level 1 of the Charles Brownlow Stand) and the Hoops Bar (Located in the Players Stand), click here to view a map.
To food and beverage vendors on and around the concourse, click here
To view disabled access information, click here.
MAPS:
ATM:
Ground level of the Charles Brownlow Stand

Level 1 of the Charles Brownlow Stand near the Jack Rabbit Bar

Don't forget to upload all your social media posts using the hashtag #WeAreGeelong to feature on the big screen in your Cats colours!
Stay social and follow the Cats on all of our channels to keep updated with pre and post-game info, breaking news and be a part of the action during the match!
Plus - look out for our Snapchat Geofilter that will be available before and during the game. Swipe right on your phone via Snapchat to access.
TWITTER: @GeelongCats
FACEBOOK: Geelong.Cats
INSTAGRAM: @GeelongCats
SNAPCHAT: @realgeelongcats

Click here to view the Round 10 team.

Click here for broadcast information.

Click here to read about tightened security measures our the Round 10 game at Simonds Stadium