Cyber Cats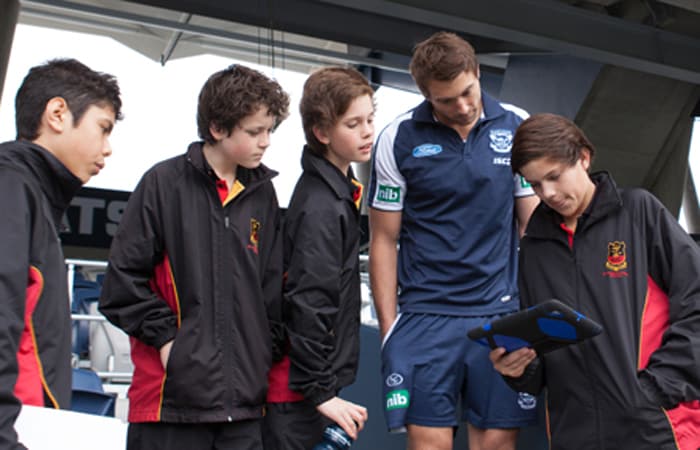 The Issue:
One student in every four in Australian schools is affected by bullying
Kids who are bullied are three times more likely to show depressive symptoms
Bullying is one of the most common reasons young people seek help from youth health help services.
The amount of time young people are spending online has increased from 3 hours per week (2006) to 13 hours per week (2013).
(source www.abs.gov.au; www.amf.org.au )

The Background:
Cyber Cats has been developed over a number of years after a young person close to the club took her own life after being bullied online. Members of the playing group turned to the club to see if anything could be done to try and stop this happening again. With a partnership with Headspace Barwon, (renamed Headspace Geelong in 2014)in its initial year, the program was offered to two Geelong secondary schools and was run over a number of short weekly sessions.
The program has now developed into a full day program offered to all secondary schools in the Geelong region as well as the Cyber Stomp event with over students and parents coming together to "Stomp out" bullying at Simonds stadium.

The Program:
Cyber Cats is a program aimed at addressing online safety with young people. The program is offered to year 7 students in the Geelong region and is run out of our Deakin Cats Community Centre.Whilst social media and technology change constantly, the program aims to continually adapt to the current trends as they emerge.
Cyber Cats also considers the role and importance of the bystander in online bullying, with reports suggesting a response from a bystander to a bully stops the negative behaviour within 10 seconds.
All of our Cyber Cats students are surveyed both before and after our program to ensure the program relates to current and relevant issues.


The Partners & Contributors:
Telstra (major sponsor)
Headspace Geelong (lead partner)
Barwon Medicare Local
Victoria Police
BATForce
Department of Education & Early Childhood Development
Deakin University and ACMA


The Players:
Corey Enright (Ambassador), Cam Delaney, Patrick Dangerfield, George Horlin-Smith, Cory Gregson, Jackson Thurlow, Jed Bews, Josh Caddy, Josh Cowan, Lachie Henderson, Lincoln McCarthy, Michael Luxford, Padraig Lucey, Rhys Stanley, Shane Kersten, Steven Motlop, Tom Ruggles, Zac Bates and Zac Smith.
More Info on being Cyber Safe:
www.telstra.com.au/consumer-advice/cyber-safety/
www.netalert.gov.au
www.cybersmart.gov.au/cyberquoll
www.cybersmartkids.com.au
www.bullyingnoway.com.au
www.cybersafetysolutions.com.au
www.youthcentral.vic.gov.au